Conn Equipment Rental Company Inc. Serving Alabama and the Southeastern U.S. for 70 Years
As you can see, we have been around for quite sometime and we have many valuable and satisfied customers. We encourage you to think CONN for all of your Crane and Rigging needs. 
Our fleet of cranes consist of boom trucks, carry deck cranes, truck cranes, all terrain and rough terrain cranes available in capacity ranging from 8 to 250 tons, and in boom lengths up to 325 feet. To help us service our customers needs Conn Crane service caters to a wide range of industry needs ranging from,
*General Construction                      *Power plants and line work
*Industrial Projects                            *Cell Tower Site Installation & Maintenance
*Concrete Panel Construction          *Tower Crane Erection
*HVAC Contractors                            *Building & Steel Erection
*Modular Home Placement                *Specialize Delicate Statue Work
No matter what your project entails, CONN has a crane available in the correct size for your next construction or industrial project.                                                                Conn Crane Service is standing by 24 hours a day with NCCCO Certified personnel to serve you.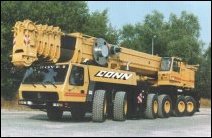 Just One of Many Cranes
we have in our Fleet.